Bond County Transit News & Press Releases
May 20, 2021: From WGEL Daily News - NEW SENIOR CENTER & TRANSIT DIRECTOR HIRED
A new executive director has been hired for the Bond County Senior Center and Bond County Transit. Melissa Marti of Greenville began her new position Wednesday, May 19, 2021, after being hired by the Bond County Senior Center Board. Marti told WGEL Radio that she is looking forward to serving the people of Bond County. She said she knows the transit is a popular service and that everyone is excited for the senior center's salad bar to return. She hopes the center can re-open soon without COVID restrictions. Melissa Marti replaces Jill Ohnesorge, who resigned to take a job with the Illinois Department of Transportation. Please welcome her & we wish her well!
February 25, 2020: Bond County Transit is dedicated to operating a transit system that serves people of all abilities. If you believe you have been excluded from, denied the benefits of, or been subjected to discrimination due to your disability or on the basis of your race, color, or national origin while using any Bond County Transit services, you are encouraged to report it. You may also ask for a change to make the transit system more accessible to you.

Please see our new Policies, Complaints, Requests section of our Passenger Guidelines page for more.
February 22, 2019: From WGEL Daily News - BOND COUNTY TRANSIT TO INTRODUCE RIDER PASS
Beginning March 1, Bond County Transit will initiate a new rider pass system.

Bond County Senior Center and Transit Executive Director Jill Ohnesorge talked to WGEL about it. She said when you buy a pass, you can reload that pass when needed. She said people want to be able to use a debit card and they have looked across the transit system and there isn't anything available, so she hopes this will be the next best thing.

The transit service will track transactions internally, and every time a rider uses the pass, he or she will be able to see the balance.

Once again, the new pass system begins March 1. To call Bond County Transit dial 664-9844 or 1-800-257-9012.
January 31, 2017: From WGEL Daily News - NEW SENIOR CENTER & TRANSIT DIRECTOR
The Bond County Senior Center has its third executive director in the 40-year history of the center. Jill Jones, who spent January as acting director of the senior center, has been hired as the new director, replacing Anna Oestreich, who was director the past 34 years.

At a recent reception to honor Oestreich, Darryl Bolen, member of the senior center board, introduced Jones to the audience. He said Jones has been the business manager at the Senior Center for several years and has done a marvelous job. He praised Oestreich for preparing Jill for her new role.

The director also oversees Bond County Transit and the Bond County Food Pantry. Jones lives in northern Bond County. She has been the senior center's financial officer the past six years.
January 26, 2016: From WGEL Daily News - CHANGES COMING TO BOND COUNTY TRANSIT
The absence of a state budget has led to changes for senior citizens using the transit system. Anna Oestreich, executive director of Bond County Transit, told WGEL in the past the senior fare of $1.10 per ride has been a suggested donation. Beginning February 1, 2016, the fee will be required to be paid and is being increased to $1.50 per ride, which is still discounted from the regular adult fare.

Seniors will now be required to pay the senior fare for a ride. "Because we will not be receiving any subsidies after February 1 that would offset losses for senior individuals that feel they're unable to pay that, we will not be able to provide them with a ride," Oestreich said.
October 4, 2015: From WGEL Daily News - BOND COUNTY TRANSIT & DIRECTOR RECOGNIZED
Bond County Transit and its director, Anna Oestreich, were recently recognized by the area agency on aging, AgeSmart, for providing residents, especially senior citizens, a successful transportation system. Bond County Transit received a certificate of recognition for providing transportation services and Oestreich was one of two persons presented this year's Legacy Award. She told WGEL the award is the result of support from many people. She said the award shows that the Senior Center Board of Directors trusted in the vision the center had to expand services. She thanked the county residents and the center staff for their support. Oestreich said the transit program started as one Bluebird bus, then moved to one IDOT vehicle, and eventually to a fleet of fifteen vehicles and a facility that belongs to the county.

She emphasized that one person didn't make all that happen it was a team that was willing to sustain a vision over time. No local tax money goes into Bond County Transit, which began in February of 1982. State and federal funds are received for the transit system, however, fund raisers are held to provide required matching funds. Oestreich said that in fiscal year 2015, the system's contract with AgeSmart allowed 7,500 trips for older adults, however the system was able to provide 17,000 trips for those 65 and older. Oestreich emphasized Bond County Transit provides transportation for all county residents, regardless of age. There is a nominal fee to ride. The transit office can be reached by calling 664-9844.
September 3, 2013: Beginning the week of September 9, BCT will begin running an Intercity Bus route schedule to Centralia, Illinois. At the Kaskaskia College Main Campus, riders can transfer to a South Central Transit vehicle. South Central Transit provides transportation to Greyhound Bus Line, Amtrak Train Line, plus countless shopping, business, medical, recreational, etc. destinations in the Illinois counties of Marion, Jefferson, Clinton, Franklin & Perry. Visit the South Central Transit website for more information about their shuttle routes. This intercity bus route will run Tuesdays and Thursdays.Visit the BCT Commuter Routes Page for complete schedule and fare information.
July 12, 2013: On Friday, July 12th, there was a ribbon cutting for the new Bond County Transit Building in Greenville. Anna Oestreich (BCT Executive Director), says they have moved the transit operation into the new facility, located at 102 W. Bowman. The brief ribbon cutting ceremony was held at noon and was followed by light refreshments. The public was invited to attend this event, and Chamber of Commerce Director John Goldsmith remarked that this ribbon cutting was probably the best attended of any the Chamber has sponsored in the past 2 years. Oestreich explained that they will be having an open house at a later date; at this time there are still some minor interior issues which need to be finished up. The new facility will continue to allow Bond County residents to access education, employment, medical services, nutrition, shopping, and allow them to improve the quality of life in the county. Click to see more photos from the ribbon cutting ceremony, plus an 8-photo time-lapse slideshow of the facility's construction.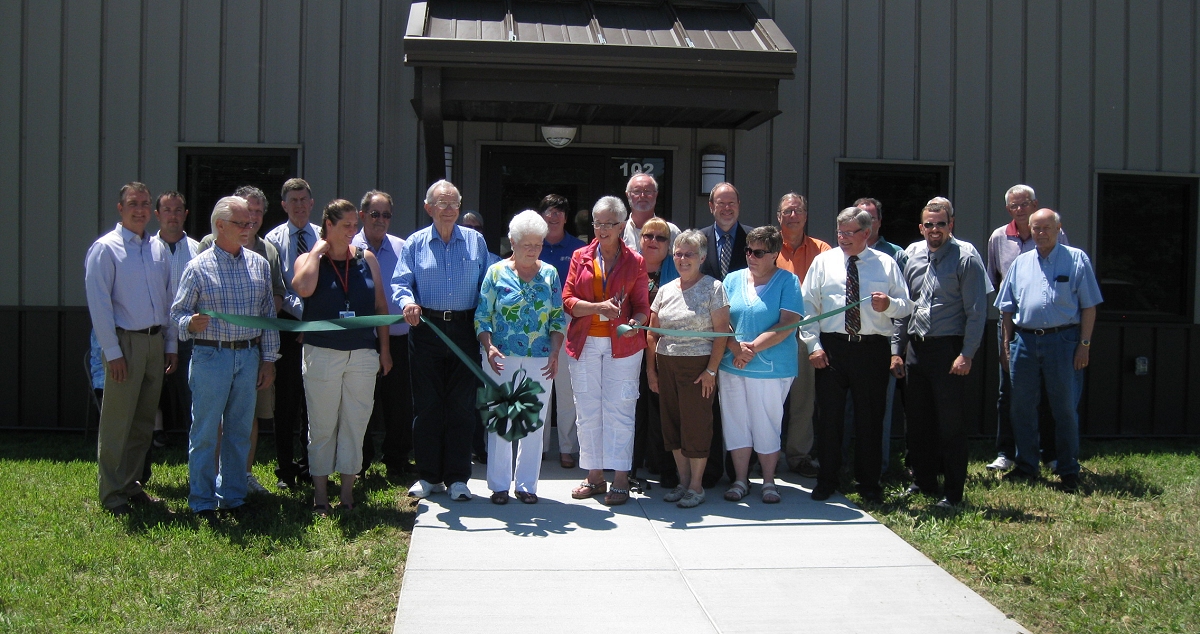 November 1, 2012: Bond County Transit broke ground for its new facility (at the site on Bowman Industrial Drive just east of the IDOT State Shed) in an important ceremony November 1, 2012. The project is sponsored by IDOT and USDOT. The ceremony was attended by many members of the Bond County Senior Center Board, City and County Leaders, BCT customers and members of the Greenville Chamber of Commerce. This is a big day in the history of Bond County Transit. Construction should be complete by early 2013. Click to see photos from the groundbreaking ceremony.
February 9, 2012: From WGEL Daily News - COUNTY BOARD APPROVES LEASE CHANGES FOR LARGER TRANSIT CENTER
The Bond County Board met Tuesday night at the courthouse. The board heard from Anna Oestriech on changes being made to the conception of the new Transit Building. Anna told the board the senior center is now going to lease three acres of land from the Bond County Health Department instead of the original 1.5 acres. Anna said the design phase for the new building will be completed soon and drawings will hopefully be available before too long. They are hoping to break ground in the spring and have a completed building by the end of the year. The new Transit Building will be next to the Bond County Health Department Building on South 4th Street.
August 18, 2011: From WGEL Daily News - BOND COUNTY TRANSIT TO OFFER TRANSPORTATION TO KASKASKIA COLLEGE
Kaskaskia College and Bond County Transit are partnering to offer round trip bus service for Greenville students to the KC Main Campus this fall. Pick up will be at the Greenville Education Center for a one-way fare for adults and a discounted one-way fare for students. Discounted 42-trip passes will be available. Scheduled pick-up times from the Greenville Education Center are 6:50 and 11:45 a.m. and from Kaskaskia to return at 12:40 and 5:10 p.m. Bus service begins August 22. For more information call 664-9394.
May 10, 2011: Welcome to the unveiling of Bond County Transit's new Website. BCT Online is now independent and live. Please take time to explore the website and get excited to take an easy and inexpensive trip around Greenville, Illinois; Bond County and beyond.
March 30, 2011: From WGEL Daily News - BOND COUNTY TRANSIT STARTS NEW FACILITY
The construction of a new Bond County Transit building is in the first stages of implementation. WGEL spoke with Bond County Senior Center Director, Anna Oestreich, about the project. Oestreich said the Bond County Senior Center, on behalf of the Bond County Board, published a request for proposal for the construction of a facility that will house the personnel and equipment for Bond County Transit here in Greenville. Oestreich said eighteen entities attended a pre-bid meeting March 21 and expressed interest in presenting a proposal. After the meeting, two more companies expressed interest. She said the deadline for presenting a proposal is 4:00 p.m. April 8. This initial phase is for architectural design and construction management only. The facility, which will have 1,500 square feet of office space and indoor parking for ten vehicles has a spending cap of $1.4 million and is to be located on Bowman Industrial Drive.
March 31, 2010: From WGEL Daily News - BOND COUNTY TRANSIT SURVEY FOR TRANSPORTATION TO JOBS
The Bond County Transit held a public hearing Monday night to discuss ways to get information about Bond County commuters who travel to work in the metro area or beyond. A three-year plan was started in 2007 to assist Bond County residents in getting to and from their jobs. Bond County Transit has received monies from the Job Access Reverse Commute program (JARC) to subsidize the program. Bond County Transit is also asking for your help in getting information about the who, where and when needs for public transit. To express your ideas or for more information call Bond County Transit at 664-9844.
News Stories posted on this page remain the legal property of their original publisher. Links back to story sources have been provided in cases where applicable. Remember that at the present time, some of these stories and their details might now be out-of-date.