Bond County Transit Service Description
Bond County Transit provides a general public demand and response service. There are no fixed routes. Unscheduled side stops will be made if time permits. At the conclusion of your business, call BCT for pick-up. Please be on time. Since drivers are usually on a schedule, your punctuality will allow drivers to be on time to pick up others. Please notify the office in advance if you will be delayed or if you need additional time. Reasonable accommodation will be made upon request and considered on a case by case basis. Drivers are not personal attendants, and will not function as such. If a personal assistant is needed, passengers should arrange for an aide to accompany them.
Drivers may assist passengers on and off vehicles and are solely responsible for assisting passengers that require the use of a lift or ramp.
Drivers are not required to assist passengers with packages or groceries. Packages must not block aisles, emergency exits, or door. A limit of six packages per passenger is requested.
Appointments must be scheduled through the transit office. Drivers do not schedule. A contact phone number is required for a reservation or pick-up.
Pets should be contained in a pet taxi and should not block aisles, emergency exits, or door. Service animals are welcome. All animals are expected to be under control.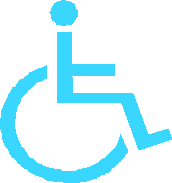 Accessibility

Bond County Transit provides vehicles accessible to persons with disabilities.

Lifts are designed to safely accommodate a maximum combined weight (passenger and chair together) of 800 lbs. If your weight plus that of your chair exceeds that amount, we may not be able to provide service.